Disinfection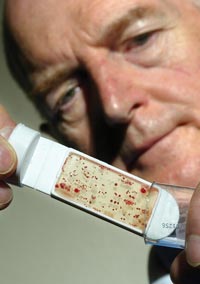 The Aquawing Disinfection Ozone Laundry System is the only system in North America that is clinically validated to disinfect and to kill the super bugs MRSA (staph), C diff, aspergillus niger as well as doctor verified to kill HIV and Hepatitis amongst others. Two separate microbiologists were recruited and conducted a multitude of extensive tests using the Aquawing patented Interfusor The results came back and blew the microbiologists away.
It is not true that all ozone systems will properly disinfect laundry. This is an important concern for any facility that may be processing linens, mops, cloths, etc., contaminated with infectious materials (correctional institutions, hospitals, nursing homes, sports facilities, etc.). Ozone does have powerful disinfecting properties, but simply relying on the reputation of ozone gas as a disinfectant does not mean that all ozone laundering systems will provide sufficient disinfection especially with super bugs such as MRSA (staph) and C.diff. and many more.
There is no evidence that has proven ozone disinfection for all ozone laundering systems. Many other companies often use Aquawing test results: materials reflecting the disinfection qualities of ozone, but not disinfection studies when using their technology. These microbiologist studies were conducted using technologies that we have developed through years of extensive research and development. Do not be fooled into thinking that simply because a system uses ozone, it will disinfect properly. This is not true.
Industry-Related Brochures
Free Laundry Analysis

Aquawing will perform a free laundry analysis of your site and a savings proforma will be created showing the fast payback of the Aquawing ozone system. learn more

Validated Ozone Disinfection

Don't believe everything you see. The Aquawing system is the only ozone system clinically validated to disinfect & kill the superbugs MRSA (Staph), C.diff and aspergillus niger. learn more
More information
Click any of the links below to learn more about the benefits of AWOIS and Ozone.
Aquawing Ozone Injection Systems
(AWOIS, LLC)
45 Priscilla Lane | Auburn, NH 03032